This is my first post on this blog and basically this blog is for pictures of nail polishes that I own, reviews, pictures and tutorials of my nails. I don't have a large collection of nail polish but I own some China Glaze's, OPI's, Essie's, Cover Girl Boundless Color, &Sally Hansen. I'm hoping to expand my collection as well as sell off some of the nail polishes that I do not use. I'm only a beginner at doing nails and I found it to be a hobby of mine when I started to do them myself, which saves me money and I'm able to use the nail polishes over, and I got compliments on my nails frequently so it brought up my self esteem! (: I hope my liking of nail polish may leech onto you and you may have beautiful nails also!
Here are a few pictures of my nails that I have done.
For the neon zebra nails, I used two coats of Sinful Colors' black nail polish as my base and then I used neon nail art colors to make the zebra stripes. Sinful Colors is a pretty nice brand and it can be found in drugstores for about $2-3 dollars. :)
For this white tiger design I used OPI's Time-less is more as my base coat. OPI's Time-less is more is very sheer, so this took me about 3-4 coats. It takes a while since you're waiting for them to dry before applying the next coat but its a very nice color! I haven't had any whites or off-whites and this is a perfect one in my opinion. (: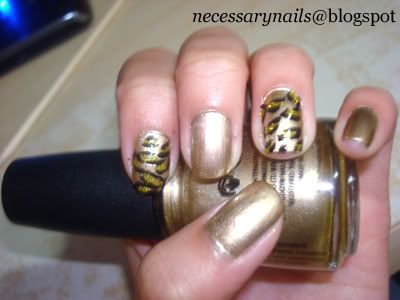 For this set, I attempted to do a leopard print with China Glaze's Passion as my base coat. It could take only ONE coat and it'll come out as the natural color! Overall, it's a very nice color & the brand is absolutely awesome. There's such a wide range of colors and I have my list of wants from them! :D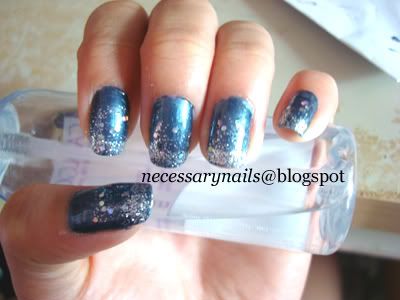 CG Boundless Color Disco Dazzle
This set is my current nails. I was really surprised at Sally Hansen's Gunmetal, and I LOVE it! :D The color comes in one coat also. For these, I attempted at a "gradient" look by striping the tips of my nails with glitter silver nail art like french tips and then I would use CG's Disco Dazzle and brush away from the tips of my nails and trying to move some of the glitter silver nail art with it. I got many compliments with my current nails! (:
I hope you enjoyed looking at some of my works!